Manufactured Home Foundation Certifications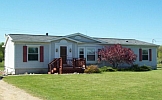 If you are selling or buying a manufactured home, then most likely a foundation certification will be required. For all FHA and VA loans, an engineer's foundation certification is required that states that the home is placed on a permanent foundation that complies with the "HUD Permanent Foundation Guide for Manufactured Homes", dated 1996 by the US Department of Housing and Urban Development (HUD).
We have partnered with the engineers at
Foundation Certifications
to provide a turn-key foundation certification service to you. You may place your order online by going to
http://www.FoundationCerts.com/order
.
From our Partner:

​
"We certify that foundations are compliant to HUD/FHA, VA, and Conventional Lending requirements and standards.
Our Professionally Licensed Engineers ensure that home foundations are in compliance with HUD/FHA, VA, and Conventional Lending requirements and other national standards.
We perform
On-site Inspections and Engineering Foundation Certifications for the Mobile Home industry
to ensure conformance to federal government regulations for
mortgage lenders, loan officers, real estate agents
, insurance agents, and home owners. If the manufactured (mobile) home foundation is in conformance with governing HUD/FHA, VA, and Conventional Lending standard, we issue a Engineer's Foundation Certification to ensure that loan guidelines are met.
Not only do we issue structural engineering foundation certificates, but we are a full service structural engineering design firm for the manufactured (mobile) housing industry. We can design a retrofit for an existing non-compliant mobile home foundation, or engineer a custom foundation design for installation of new manufactured home directly from the manufacturer."
If you have questions about our
Mobile Home Foundation Certs services
, please feel free to
contact us
.